Fishin Frenzy Big Catch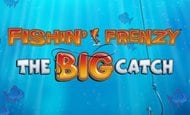 Fishin Frenzy - The Big Catch
The new Fishin Frenzy The Big Catch slot is the next instalment in the Fishin Frenzy franchise of slot games that has been getting casino gamers hooked for years.
Multiple gaming developers working under the Blueprint Gaming name have toyed with the format and finer details of this slot in their own versions. But the new Fishin Frenzy The Big Catch slot game is a creation of the game development studio that started the franchise off, namely Reel Time Gaming. The new Fishin Frenzy The Big Catch slot is identical to their pioneering original all those years ago, but there is one difference. There's a clever and exciting adjustment to the free spins collection aspect of the slot.
You'll experience the same fish characters along with a new uplifting soundtrack on the home screen. But most of the music does drown out while you get into the slot gaming action. All the other furniture in this online slot machine has remained the same as the original. If you like these simple fishing slots, then you may also like to try Fishin' Reels and Fishin' for Gold.